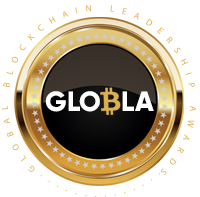 Terms and Conditions
These Terms of Service ("Terms") govern your access to and use of the Global Blockchain Leadership Awards ("Globla" and/or "GLOBLA") website, products and services, including, but not limited to participation in any of the Globla programs through submission of a single award application ("Products and Programs"). Please read these Terms carefully and contact us if you have any questions. By submission of an award application, or otherwise participating in our Products and Programs, you agree to be bound by these Terms, our Globla Terms and Conditions, and by our Privacy Policy.
1. Participation in Global Blockchain Leadership Awards

You may use our Products and Programs only if you can form a binding contract with Globla, and only in compliance with these Terms and all applicable laws. If you submit an award application or otherwise take part in our Products and Programs on behalf of a company, organization, or other entity, then (a) "you" includes you and that entity, and (b) you represent and warrant that you are authorized to grant all permissions and licenses provided in these Terms and bind the entity to these Terms, and that you agree to these Terms on the entity's behalf. You can only submit your Globla application one time via the website submission form. There is another way of participating Globla, which is a sponsorship package, which all participants can refer to the deck in the website.

There are 2 steps in submission of your nomination. Step 1. Go to https://www.globla.io/ and click on Nomination to fill up necessary information. Step 2. Our team will review the nomination request and will be informed to fill up CREBACO Form (Detailed Form) if you are accepted as Nominee to participate. 1-1. Fee

1-1. Fee

There are no fees either during the nomination phase or for being awarded at the event. However separate event fees within our Event may apply. The sponsorship fee for Globla will be announced on the website deck and the content may differ upon an occasional change by the team.

1-2. Restriction of Application

Each Globla program has a scheduled deadline starting from the submission of your application, followed by Globla judge nomination and then finally the semifinalist announcement. You can submit your application only one time per program under one category. No other applications shall be accepted after the deadline of the submission. The best application in each category will be displayed on the website in the week commencing 1 June 2019 as Shortlisted Semifinal or Final Nominees.

1-3. Nomination

A panel of judges will then choose a winner for each of the categories. The panel of judges includes Globla committee, team members and SMEs, KOLs (50%) and public voting (50%). Each regional awards will have one nominee as a semi-finalist per category and will be announced at the regional Globla event. Then the final winners for each category will be announced at the annual Globla final round in Singapore during Singapore Blockchain Week in November 2019.

All winners referred in these terms will receive a trophy. The organizer reserves the right to substitute prizes of equal or greater value at any time. The prizes and trophy are not transferable. The organizer reserves the right to withhold a prize until it has obtained written permission from any brands, businesses, people or other rights holders featured in an application to use the contents in accordance with the Rule 2-1. Applicants or participants will assist the organizer in obtaining such written permissions.

1-4. Sponsorship Program

The sponsorship program is stated under the deck in the Globla website. You receive 7 different segments of rights to claim by purchasing Globla sponsorship program: Award Presenting (Semi-Finalist), Opening Speech, Closing Speech, Booth, Keynote, Panel, Logo exposure.
2. Security

We care about the security of our program participants. While we work to protect the security of our site, including the content of your award application and other submitted information, Globla cannot guarantee that unauthorized third parties will not be able to defeat our security measures. Please notify us immediately of any compromise or unauthorized use of your account or the content of the application.

2-1. Responsibility for materials submitted

Any individual submitting an application in the Globla is responsible for the legality, originality, and copyright of the work submitted in his/her name. By submitting your work on the website, you are not allowed to upload and distribute any document which is confidential, defamatory, obscene, breaking personal privacy regulations, infringing copyright and intellectual property rights, violating legal rights of any party or proprietary to a brand, an individual or a company (except you, the person submitting the work in his/her name). We reserve the right to delete any offending material and remove the entries from the Awards.

Any individual submitting his/her work through the website form cannot use false contact information details or identifying details, impersonating any person in order to mislead the awards jury. By submitting your application, you grant non-exclusive permission to Globla organizers, sponsors and any members of the press/media to use your name, your image and the work submitted so that we may use it in producing and marketing the Awards. You will be given full credit wherever possible. Example usages include articles in newspapers/magazines/websites/social media posts/blogs/previous winners section of our website; printed materials at our awards ceremonies; prints at exhibitions specifically related to the awards; projected and on-screen visuals at our ceremonies; videos and photos displaying winners; case studies, presentations related to these awards. You keep full ownership of the work itself and we will always seek your permission about any licensable activity outside the scope described above.

By submitting your application through the online form, you hereby confirm you have the rights to distribute the content used in your work provided and that the content used does not violate any commercial and judicial Singapore laws.
3. Third-Party Links, Sites, and Services

Our Products and Programs may contain links to third-party websites, services, or other events or activities that are not owned or controlled by Globla. We do not endorse or assume any responsibility for any such third-party sites, information, materials, products, or services. If you access any third party website, service, or content from Globla, you do so at your own risk and you agree that Globla will have no liability arising from your use of or access to any third-party website, service, or content.
4. Indemnity

Participating in Globla Products and Programs involves the submission of a single award application by you in one of our award categories chosen at your discretion. Globla and its judges do not independently verify the information contained in your award application and are relying on you to provide accurate and truthful information in your award application. Your use of our Products and Programs, including in case of selection of your award application as a "winner," is in no way an evaluation, guarantee, warranty, sponsorship, or endorsement of any kind by Globla, its owners, employees, or agents of your products and services, or of your Company, its executives, departments, or any of its business practices, or other characteristics. As such, in no way does Globla assume any responsibility for the quality, condition, efficacy, suitability, safety, fitness, legality (including applicable patent, trademark, copyright, and trade secret laws), or reliability of any product or service produced, manufactured, distributed, sold, offered, rendered or otherwise made available by you. Nor does Globla assume any responsibility for the workplace conditions, personnel, business practices, or other characteristics of your Company. If you use our Products and Programs, you agree to indemnify and hold harmless Globla and its owners, officers, directors, employees and agents, from and against any claims, suits, proceedings, disputes, demands, liabilities, damages, losses, costs and expenses, including without limitation, reasonable legal and accounting fees (including costs of defense of claims, suits or proceedings brought by third parties on any basis whatsoever), in any way related to (a) your access to or use of our Products and Programs, (b) reliance by any third party on our Product and Programs as a full or partial basis for conducting business with you, including by purchasing or using your products or services, or (c) your breach of any of these Terms.
5. Disclaimers

Globla Products and Programs are offered on an "as is" basis without warranty of any kind, whether express or implied.

Globla specifically disclaims any and all warranties and conditions of merchantability, fitness for a particular purpose, non-infringement, and any warranties arising out of course of dealing or usage of trade.
6. Limitation of Liability

To the maximum extent permitted by law, Globla shall not be liable for any indirect, incidental, special, consequential or punitive damages, or any loss of profits or revenues, whether incurred directly or indirectly, or any loss of data, use, good-will, or other intangible losses, resulting from (a) your access to or use or inability to access or use the products and programs; (b) any conduct of any third party on the products and programs, including without limitation, any defamatory, offensive or illegal conduct of third parties including judges or other unpaid volunteers assisting Globla; or (c) unauthorized access, use or alteration of your transmissions or content. In no event shall Globla aggregate liability for claims relating to our products or programs exceed the aggregate total entry fee paid by you for your participation in the product or program at issue.
7. Governing Law and Jurisdiction

These Terms shall be governed by the laws of Singapore, without respect to its conflict of laws principles. We each agree to submit to the personal jurisdiction of a state court located in Singapore
8. General Terms


8-1. Notification Procedures and changes to these Terms

Globla reserves the right to determine the form and means of providing notifications to you, and you agree to receive legal notices electronically if we so choose. We may revise these Terms from time to time and the most current version will always be posted on our website. If a revision, in our sole discretion, is material we will notify you. By continuing to access or use the Products and Programs after revisions become effective, you agree to be bound by the revised Terms. If you do not agree to the new terms, please stop using Globla Products and Programs.

8-2. Assignment

These Terms, any prize, and trophy granted hereunder may not be transferred or assigned by you but may be assigned by Globla without restriction. Any attempted transfer or assignment in violation hereof shall be null and void.

8-3. Entire Agreement/Severability

These Terms, together with our Award Program Rules, and the Privacy Policy and any amendments and any additional agreements you may enter into with Globla in connection with the Products and Programs, shall constitute the entire agreement between you and Globla concerning the Products and Programs. If any provision of these Terms is deemed invalid, then that provision will be limited or eliminated to the minimum extent necessary, and the remaining provisions of these Terms will remain in full force and effect.

8-4. No Waiver

No waiver of any term of these Terms shall be deemed a further or continuing waiver of such term or any other term, and Globla's failure to assert any right or provision under these Terms shall not constitute a waiver of such right or provision.